JoinTriage
Efficient triage and transfer
A Race Against Time for Stroke and Cardiac Disease Patients
Reducing time from onset to treatment greatly affects the survival rate and prognosis of patients with stroke and heart disease. JoinTriage provides instant and accurate triage using clinically-proven algorithms, such as FAST-ED, RACE, C-STAT, etc. The technology streamlines emergency patient care by recommending appropriate clinics and hospitals to emergency personnel based on distance and required treatment. JoinTriage also integrates with Join, permitting patient information to be shared prior to patient arrival, allowing ample time for healthcare professionals to prepare personalized and optimal patient care.
Features
Triage Customization
Supports various stroke and cardiovascular triage scales.
Efficient Patient Transfer
Recommends appropriate clinics and hospitals based on distance and required treatment.
Cloud-based
Triage data will be saved and shared instantly via cloud storage.
Seamless Hand-offs
Shares patient information prior to patient arrival with Join.

Understanding JoinTriage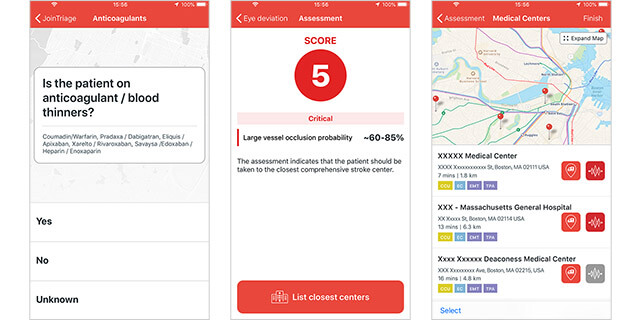 Emergency Transport Triage
JoinTriage provides several assessment scales (FAST-ED, RACE, C-STAT, VAN, etc.) commonly used among EMS providers. Question responses, such as the onset time, are used to evaluate symptoms of stroke or cardiac disease. The patient's condition is summarized with a score and accompanied by other useful information such as the probability of severe outcomes, when applicable. A map is presented, showing a list of recommended medical centers best suited to treat the patient (IV tPA, thrombectomy, etc.).
* Types of assessment scales can be changed without prior notice.
* The app uses a curated list of medical centers.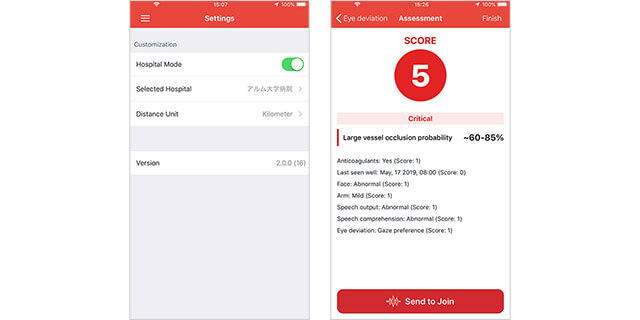 Hospital Mode
This is a customized mode for in-hospital users. The assessment results are accompanied by a list of answers. The map and list of recommended medical centers are hidden.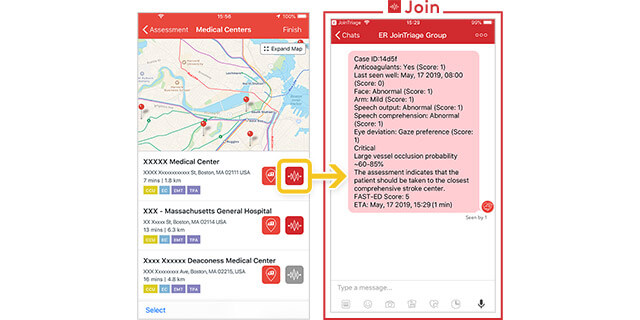 Connect with Medical Institutions
By integrating with Join, a communication app for medical professionals, assessment results can be shared with medical centers. Sharing information in advance leads to a further reduction in the time from onset to the start of treatment.
Integration with ECG
Electrocardiogram data can be shared by linking an ambulance's electrocardiograph with Join.
* Registering a JoinTriage and Join account is required.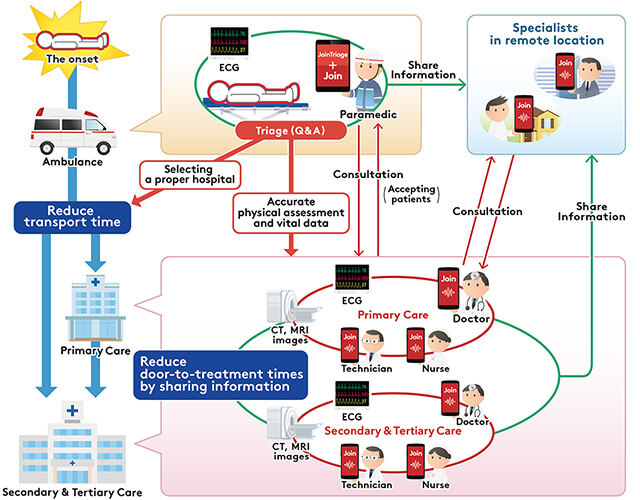 Emergency Medical Information Sharing Image
Frequently Asked Questions
Are you ready to experience our seamless solutions?