JoinTriage
Effiziente Triage und Patiententransfers
Schlaganfall und Herzinfarkt – Ein Wettlauf gegen die Zeit
Die Verkürzung der Zeit vom Eintreffen der Rettungskräfte bis zur Behandlung hat großen Einfluss auf die Überlebensrate und Folgeschäden von Patienten mit einem Schlaganfall oder Herzerkrankungen. JoinTriage bietet eine sofortige und genaue Triage mit klinisch erprobten Algorithmen wie FAST-ED, RACE, C-STAT usw. Die Technologie optimiert die Notfallversorgung von Patienten, indem sie Rettungskräften auf der Grundlage der Entfernung und der erforderlichen Behandlung geeignete Kliniken und Krankenhäuser empfiehlt. JoinTriage lässt sich auch in Join integrieren, sodass Patienteninformationen noch vor der Ankunft des Patienten mit der Klinik ausgetauscht werden können. So können medizinische Fachkräfte vor Ort die Behandlung optimal vorbereiten.
Features
App-unterstützte Trage
Unterstützt verschiedene Schlaganfall- und Herz-Kreislauf-Triage-Skalen.
Effizienter Patiententransfer
Empfiehlt geeignete Krankenhäuser basierend auf der Entfernung und der erforderlichen Behandlung und hilft, lebensbedrohliche Sekundärtransporte zu vermeiden.
Cloud-basiert
Triage-Ergebnisse werden in der Cloud gespeichert und geteilt.
Nahtlose Übergaben
Gibt Patienteninformationen noch vor Ankunft des Patienten via Join an klinische Teams weiter.

JoinTriage kennenlernen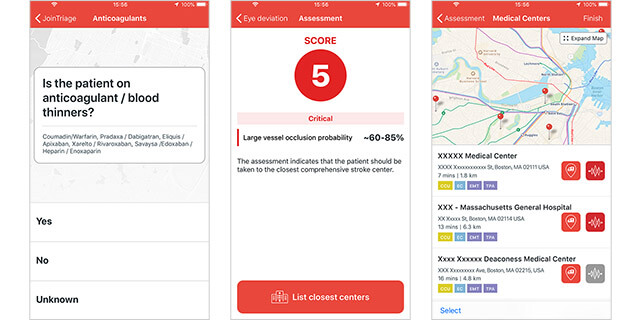 Emergency Transport Triage
JoinTriage provides several assessment scales (FAST-ED, RACE, C-STAT, VAN, etc.) commonly used among EMS providers. Question responses, such as the onset time, are used to evaluate symptoms of stroke or cardiac disease. The patient's condition is summarized with a score and accompanied by other useful information such as the probability of severe outcomes, when applicable. A map is presented, showing a list of recommended medical centers best suited to treat the patient (IV tPA, thrombectomy, etc.).
* Types of assessment scales can be changed without prior notice.
* The app uses a curated list of medical centers.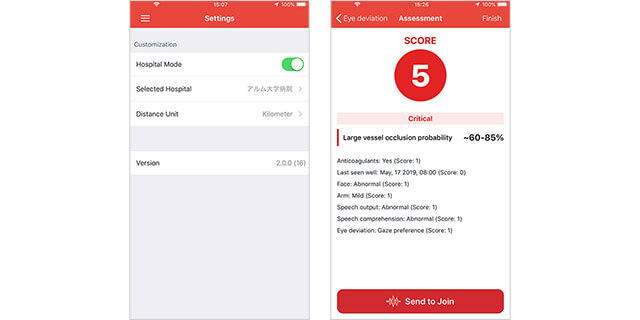 Hospital Mode
This is a customized mode for in-hospital users. The assessment results are accompanied by a list of answers. The map and list of recommended medical centers are hidden.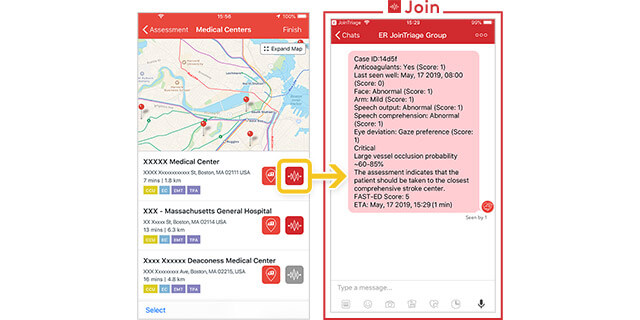 Connect with Medical Institutions
By integrating with Join, a communication app for medical professionals, assessment results can be shared with medical centers. Sharing information in advance leads to a further reduction in the time from onset to the start of treatment.
Integration with ECG
Electrocardiogram data can be shared by linking an ambulance's electrocardiograph with Join.
* Registering a JoinTriage and Join account is required.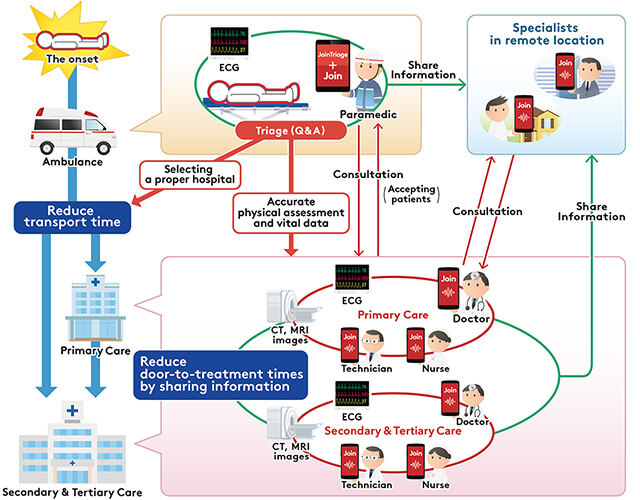 Emergency Medical Information Sharing Image
Häufige Fragen
Überzeugen Sie sich selbst von unseren Lösungen.