MySOS
Erste-Hilfe-Unterstützung und persönliche Patientenakte
MySOS ist eine App für Erste-Hilfe-Unterstützung und persönliche Patientenakte, in der User ihre medizinischen Daten und Kontaktinformationen hinterlegen können. Rettungskräfte können diese medizinischen Unterlagen verwenden, um den Zustand einer Patientin oder eines Patienten besser beurteilen zu können, was die Zeit bis zur Behandlung in einem Krankenhaus verkürzen kann. Bei Bedarf können sie die in der App gespeicherten Informationen verwenden, um die Familienmitglieder des Users zu kontaktieren. Aber nicht nur im Notfall nützlich, können Sie mit MySOS auch Gesundheitsdaten, ihre Krankengeschichte und Behandlungshistorie speichern, um sie bei Bedarf mit Leistungserbringern zu teilen.
Features
Notfall-SOS
Sendet sofort ein SOS-Signal and andere MySOS-User in der Nähe und an gespeicherte Notfallkontakte.
Persönliche Patientenakte
Patientenakte und Krankengeschichte können gespeichert werden und sind jederzeit zugänglich.
Registrieren von Notfallkontakten
Ermöglicht die sofortige Benachrichtigung von Familienmitgliedern und Freunden während eines Notfalls.
Erste-Hilfe-Leitfaden
Anleitungen für Erste Hilfe in verschiedenen Notfällen sind abrufbar, einschließlich einer schrittweisen Anleitung für die Reanimation.
Integration mit Join
Medizinische Bilder wie MRT und CT können durch die Integration mit Join geteilt werden.
Medikation
Informationen zu Rezepten und zur Verschreibungshistorie können aufgezeichnet werden.

MySOS kennenlernen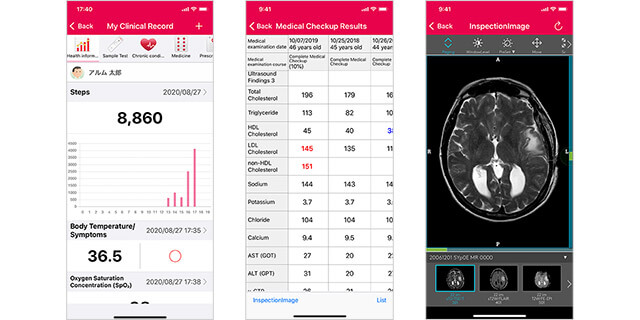 Basic Life Support
In an emergency, the app offers instructions for basic first-aid and lifesaving techniques such as chest compressions and the recovery position. An emergency notification text message can be sent to emergency medical services and pre-registered emergency contacts.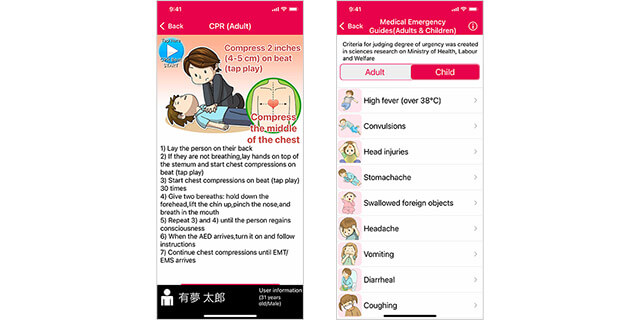 Medical Emergency Guides for Adults and Children
How to react and administer first-aid if someone suddenly falls ill. According to the symptom, we suggest the response method recommended by the degree of urgency of 3 to 5 grades.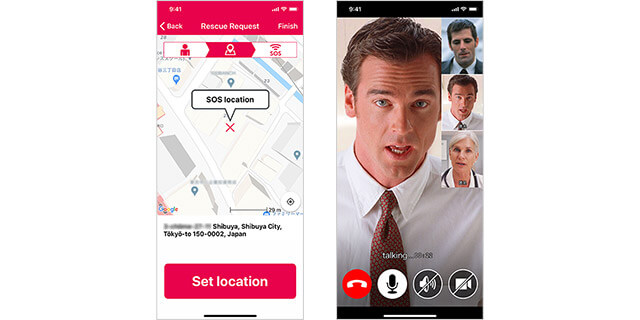 First-Aid Guide (Editorial Supervision by Japanese Red Cross)
The included first-aid guide tells you how to handle medical emergencies such as bone fractures, dislocated joints, and burns. The guidelines are provided by the Japanese Red Cross Society.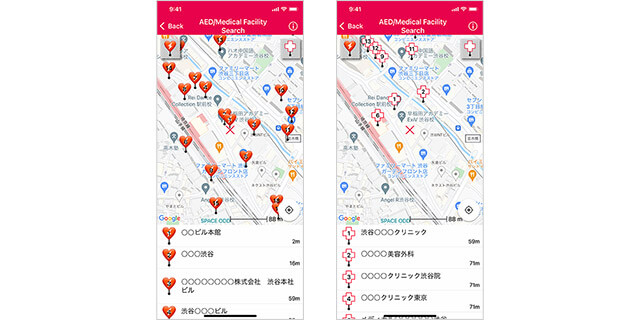 Emergency Calls
Send emergency calls to nearby medical professionals who have MySOS installed and registered emergency contacts such as family members. When an emergency call comes in, a map with the route from their current location to the scene of the emergency shows up. The distance and travel time are also displayed.
Dialing emergency number
You can dial the emergency number and send a rescue request at the same time.
*Currently available only in Japan, Taiwan, and Brazil.
Video Telephone Call
Free and anonymous video telephone calls are available to patients who make emergency calls through MySOS and the recipients of the calls. The recipients can find the exact location of the patient or check the symptoms before they arrive at the patient's location.
AED / Medical Facility Search
You can search for AED/Medical facilities in the surrounding areas on a map. The various institutions are listed by name with distances from your present location. Tapping the list displays detailed information on AED/Medical facilities.
*Currently only in Japan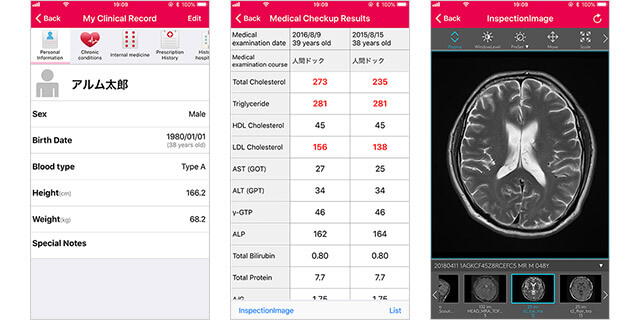 My Clinical Record (Medical Checkup Results)
Your medication history (prescriptions), medical referral letters, case or medical history, examination results, and other information can be easily collected using the camera scanning feature.
You can receive medical checkup results on your smartphone. After the medical check-up at clinics, you can receive and check the results and medical images such as MRI.
* Registration to the app is required.
* Only available to hospitals and clinics affiliated with MySOS.
Call from Lock Screen
MySOS features can be launched by tapping a button even if the smart phone is locked.
*Only supported in Android version.
Lösungen
Zugang zu Gesundheitsinformationen
Die Ergebnisse von Gesundheitsuntersuchungen und klinische Aufzeichnungen werden in MySOS gespeichert und ermöglichen den Zugriff auf persönliche Gesundheitsdaten – jederzeit und überall.
Telemedizinische Unterstützung
In Zusammenarbeit mit Leistungserbringern können User Unterstützung und Beratung von medizinischen Fachkräften über Chat und Videotelefonie erhalten.
Nahtlose Freigabefunktionen
User können früheren Untersuchungsergebnisse und Diagnosebilder (z. B. MRT oder CT) über Join problemlos an Leistungserbringer weitergeben.
User können SOS-Signale senden und empfangen, wenn in der Nähe ein Notfall auftritt. Sie können über die App Notfallnummern suchen und direkt anrufen.
Rettungseinsatz in Notfällen
Die Leitstelle kann das Rettungsteam über den Verwaltungsbildschirm überwachen und ggf. unterstützen, und die Teammitglieder in der Nähe können mithilfe der Karte schnell zum SOS-Standort gelangen.
Sofortiger Zugriff auf Dialyseprotokolle
In Zusammenarbeit mit Kliniken können User die in der App gespeicherten Informationen für die Dialyse problemlos weitergeben, selbst wenn das medizinische Informationssystem zum Zeitpunkt einer Katastrophe ausfällt.
Überzeugen Sie sich selbst von unseren Lösungen.